(Read Time:
5
mins)
What is capitalism?
Before exploring the capitalism more deeply and intuitively, lets look at a more standard way to define it. Capitalism is the Capitalism is when production and operation and profit are owned by individuals rather than by the state. Capitalism is often explained as the private ownership of "capital".
I'm Daniela. I'm creating this community as I go of people who just want to understand more about the world and engage with life more consciously. Here we go for this post:
Now more intuitively, what is capitalism?
Private ownership is not the defining factor. Thousands of years ago people sold produce at market stalls and traded crops or services. Capitalism has really taken over in the last few hundred years. What is capitalism as a whole system beyond owning the money you make?
The best explanation I have ever read about this comes from a book "Less is more" by Jason Hickel, I'm going to recreate it in part here. It involves exploring the development of 3 types of trade (the last of which being capitalism).
Types of trade:
Trade for use value
Trade for exchange value
Capitalist trade for exchange value
What are use value and exchange value?
1. Trade for use value
Humans have been trading for thousands of years. When you make a trade you are exchanging value. There are different types of value. 'Use Value' is the most logical first type. You use a chair to sit on, or food to give you energy. These items are useful. A chair maker might sell his chair and use the money to buy food. The cost of the chair in this use value systems is proportional to how useful it is, as is the cost of the food. This has been happening for thousands of years.
Capitalism trades in a different type of value; exchange value. Exchange value is trading based on what an item is worth in the eyes of other traders in the market. It's trading with the goal of profit. Have a look at the picture below, it's the opposite of trading on use-value.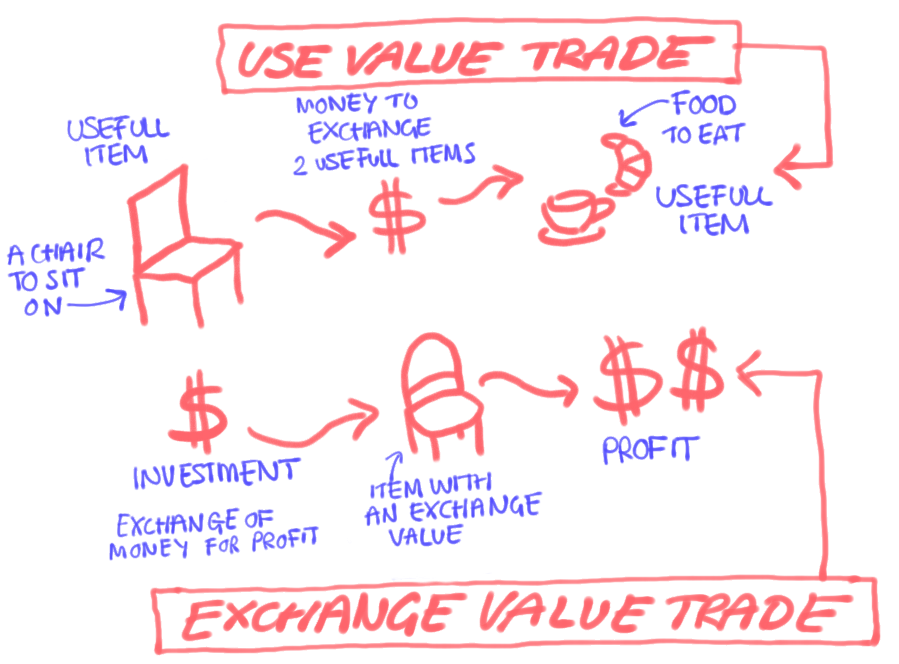 2. Trade for exchange value
To understand what this means, imagine a small family run restaurant. They spend money buying ingredients and tables and chairs and wages for staff. They run the restaurant and over the course of the year they make a profit. That's the income for their family- they spend it on essentials and maybe a nice holiday in Spain, and they hope to make the same profit next year so they can afford to go back. This sort of system could also work under many economic structures.
3. Capitalist trade for exchange value
Capitalism is the drive for growth in profits. You invest, sell and profit and those profits are re-invested for even greater profits the following year and even greater profits the year after. The more you profit, the more you can reinvest and the more you will profit in a cycle that leads to wealth growing and growing!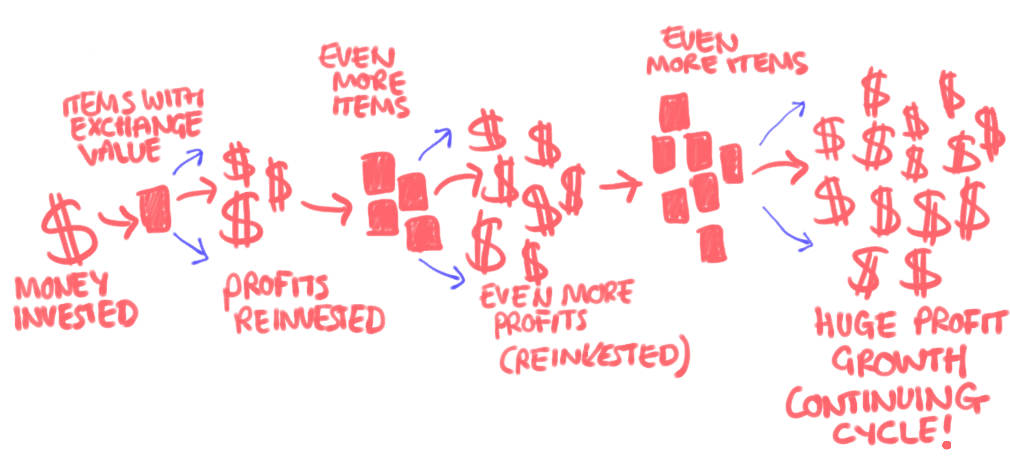 To understand it, imagine a different restaurant: McDonalds, or KFC or Subway. The profits of an individual store don't just feed the owners family and afford him a nice holiday. They are continuously re-invested back into the business to open new branches, develop cheaper ways of production, fund advertising campaigns to create more desire from the people and hopefully put other local shops out of business so they get an even bigger market share. Imagine Google or Facebook, their profits go into buying up competitors to give themselves even more advantage to sell and profit. These businesses strive for expansion and growth. This is the inherent goal- there is no end point.
How does capitalism affect our society?
It's not just the owners of these companies being greedy- it's the system they operate in. Company owners don't just have the option of re-investing their profits, they also get investment from individuals who want a share in their profits. Take an investor who invests £1,000 into a company growing at 5% every year. After one year, they will have £1,050 and after 10 years, they'll have £1,630. It's great for the investor, and it's great for the company because the more money the company starts with, the more money they can turn into big profits.
But the system also means that the companies need to strive for more and more growth. They can't aim for the same profit this year as last year because that would be no increase in the investors money. They need the amount of profit each year to keep rising. If it doesn't, the investors will take out their money and invest it elsewhere. This puts huge pressure on the companies to keep growing and developing. This is the system of capitalism.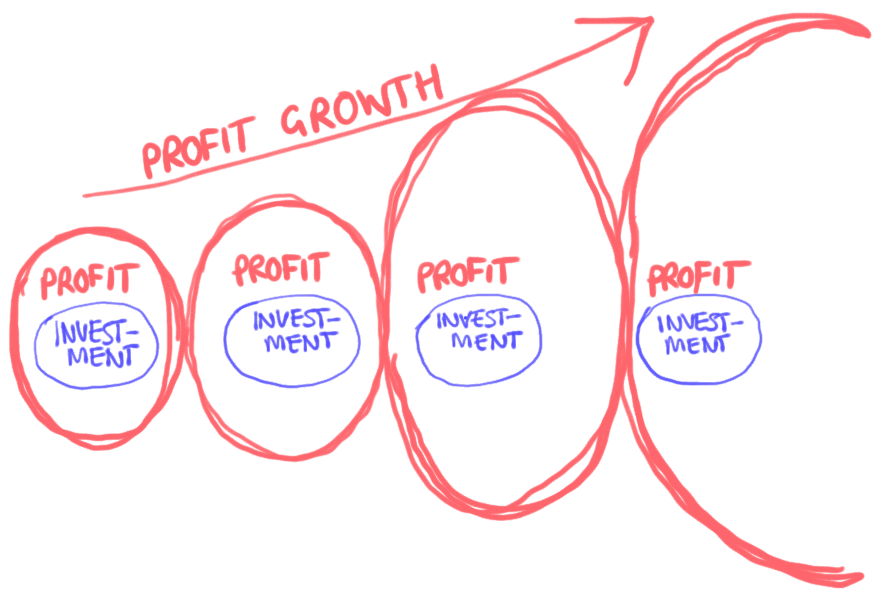 Is it good or bad?
It's both!
Good side of growth
The companies need to be very careful with money and there is a drive to find the most efficient way of operating, to recruiting the best talent, to make the best product, and have the best new ideas. They need to innovate their products and processes year on year so to keep squeezing out the biggest profits.
Potentially bad side of growth
Profit is the amount you make minus the amount you spend. One way a company can increase the amount they sell is innovating better products. This sounds nice but there are limits. If a company sells tables, they can bring out a new, better table each year, there's not going to be a yearly giant increase in the amount of tables people need to buy. They might roll out advertising campaigns to convince some people but ultimately there is a limit to how many tables people will buy.
What does the pressure of growth mean for society?
To live up to the pressure of growth, if a company can't increase sales at the rate of expected growth, they will have to reduce expenditure. There would be incentive to reduce the pay for workers and make them work longer hours; incentives to use cheaper materials sources from somewhere like china- where there are fewer conservation laws; incentive to cut corners on safety. Overall, there is incentive to make a big profit TODAY (at any environmental cost). There is no incentive towards making sustainable profits for years to come.
This post is about the systemic drive and direction that capitalism directs companies towards. Any individual company may or may not do any of these things- but the point here is that the INCENTIVE and DIRECTION of what the company needs to do shifts from creating employment, sustainable growth and good conditions and livelihoods (when the company first starts up) to keeping the workers on low wages in less optimal conditions with less freedom. This shift is very interesting. I have another post on the implications of growth in capitalism and how the strive for endless growth turns problematic. Check it out here.
Thank you for reading!
Join the mail list to become part of this community learning about our world and the systems we live in. I'd love to hear from you- send me an email via the social icons to say hi!